Jan
29
Wed
2020
36th Anniversary Eatin' Meetin'

@ Main Street United Methodist Church
Jan 29 @ 6:30 pm – 8:30 pm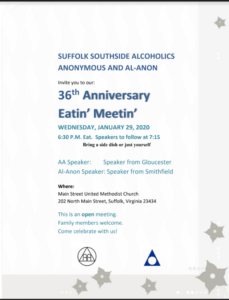 SUFFOLK SOUTHSIDE ALCOHOLICS – Download Flyer
ANONYMOUS AND AL-ANON
Invite you to our:
36th Anniversary Eatin' Meetin'
WEDNESDAY, JANUARY 29, 2020
6:30 P.M. Eat. Speakers to follow at 7:15
Bring a side dish or just yourself
AA Speaker: Speaker from Gloucester
Al-Anon Speaker: Speaker from Smithfield
Where:
Main Street United Methodist Church
202 North Main Street, Suffolk, Virginia 23434
This is an open meeting.
Family members welcome.
Come celebrate with us!
Feb
14
Fri
2020
44th Annual OCEANFRONT CONFERENCE

@ The Wyndham Hotel
Feb 14 @ 7:00 pm – Feb 16 @ 2:00 pm
44th Annual OCEANFRONT CONFERENCE
Trust God, Clean House, Help Others
Download Flier
Feb. 14, 15 & 16th

The Wyndham Hotel
5700 Atlantic Ave.
Va. Beach, Va. 23451
Hotel Reservation 1-800-365-3032
Event Registration $30.00
For info go to: www.oceanfrontconference.org
Mar
16
Mon
2020
SUPPER AND A SPEAKER

@ First Presbyterian Church
Mar 16 @ 6:00 pm – 8:00 pm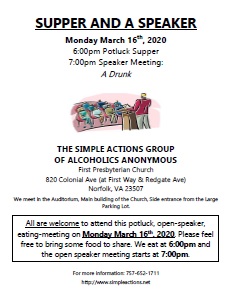 Simple Actions Group – SUPPER AND A SPEAKER
Monday March 16th, 2019 – Download Flier
6:00pm Potluck Supper
7:00pm Speaker Meeting: A Drunk from Outer Banks, NC
First Presbyterian Church
820 Colonial Ave
Norfolk, VA
For more information: 757-652-1711
http://www.simpleactions.net